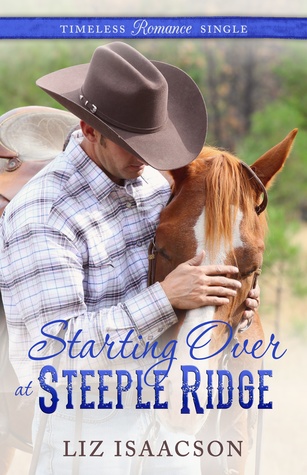 **Amazon Top 10 in Christian Romance**
**Amazon Top 100 in Western Romance**
From the publisher of the USA TODAY bestselling Timeless Romance Anthology series in Clean & Wholesome Romance, comes the Timeless Romance Singles line: STARTING OVER AT STEEPLE RIDGE: A brand new contemporary romance novella from bestselling author Liz Isaacson:
Tucker Jenkins has had enough of tall buildings, traffic, and business meetings to determine the next app that will change the world. He's sold his technology firm for billions and traded it for Steeple Ridge Horse Farm in rural Vermont.
Missy Marino has worked at the boarding stable and farm since she was a teen, and she's always dreamed of owning it. But her ex-husband left her with a truckload of debt, making her fantasies of owning the farm unfulfilled.
When she meets Tucker, she starts having a new kind of fantasy—one where they work with the horses together. Tucker didn't come to the country to find a new wife, but he supposes a woman could help him start over in Steeple Ridge. Will Tucker and Missy be able to navigate the shaky ground between them to find a new beginning?
Jewelz Review~
I know I can always count on Timeless Romance for a delightful, clean romance that I can get through in a weekend. Starting Over at Steeple Ridge was just that. Liz Isaacson has crafted a sweet story that will pull on your heartstrings and leave you with a smile on your face.
Missy is devastated that her beloved Steeple Ridge has been sold to some rich city slicker. Not only did her ex-husband leave her with debt and emotional scars, but now her dream of owning the horse farm is forever out of reach. The fact the new owner makes her pulse race only complicates matters.
Tucker wants nothing more than to escape the city. His jet-set lifestyle left him feeling unhappy and unfulfilled. Moving to a tiny town in Vermont and buying a horse farm, even though he's never even been on a horse, seems the perfect solution.
Even though Missy and Tucker are seemingly opposites, they quickly learn how to work together and find that the attraction is mutual. Neither is looking for a new relationship. Both have things in their pasts they'd like to keep hidden. Both need a new beginning.
Sweet western romance that even a city slicker can enjoy.
honest disclosure~ I received a review copy