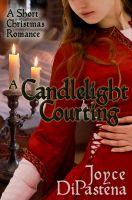 Blurb~
When Burthred comes courting on Christmas Eve, Meg makes him swear on her box of holy relics that he will not pursue her. But her reliquary box holds a secret, one that will either join their hearts together or tear them apart. "Her stories will transport you through time." ~ Aimee Brown, "Getting Your Read On"
Tifferz Take~
I have only read one of Ms. DiPastena's books and Loved it! I do love the cover and look forward to reading this one. Review to come....
you can pick this up on
smashwords here in any ebook format!