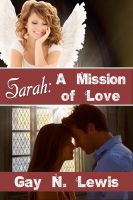 Blurb~
Handsome, single, and wealthy, Houstonian Tom Shoemaker must decide if he should give up his successful business to assume a country pastorate. When a blonde, blue-eyed, dyslexic angel arrives from The Heavenlies to locate a mate for Tom by Valentine's Day, she's havoc in outlandish red stilettos. But despite numerous goofs in her efforts—many caused by her passion for eccentric footwear the other angels would never dare adorn—love is indeed in the air.

After Marcy Montgomery's husband was killed in Afghanistan, she relocated to a small, central Texas town with Hope, her five-year-old daughter. When Sarah accidentally introduces Tom to Marcy, she sets about discovering if the two would make suitable mates. The Superiors certainly wouldn't approve of a romantic link between the wrong people. But Hope wants a father, and when the five-year-old meets Tom, she immediately decides he is the perfect candidate.

Is Tom the right one for Marcy? Or has Sarah made her biggest blunder of all? Oh merciful heavens! What's an angel to do?
Tifferz Take~
This is my first read by Ms. Lewis and it was such a cute christian romance. Sarah the angel is so funny and means well but things don't always go as she planned. Tom is at a crossroads in his life due to his father's death and has to make some career choices. How Tom and Marcy meet I am still laughing about it. Why because I am glad it was not me.
I liked Tom and Marcy. They just seemed to get on nicely. Hope is so sweet and candid. Oh the things that little girl said! I felt Hope gave this story the zing. Will those choices ruin his new relationship with Marcy? I was surprised at the some of the events towards the end. I was not sure how things would play out. I was very happy with the ending!
source~Publisher for review
you can pick up the ebook in any format
here
you can get the kindle book
here