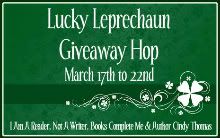 I would like to thank I Am A Reader, Not a Writer for putting together this awesome Blog Hop!
Welcome to my giveaway! All you need to do is become a follower of my blog with Google Friend Connect (old and new followers welcome) and leave a comment with your email address to enter the giveaway and please say paperback or ebook!
One entry per person! This is a giveaway for 3 paperback books US and CANADA ONLY and 5 ebook in a pdf format for international. Please specify US/CANADA or INTERNATIONAL. The winners emails will be emailed to the author from me.The author will send you an email with your ebook (pdf file)(INTERNATIONAL) or email for you for your address to send you the paperback (USA/CANADA). When you sign up you agree to these terms. The contest is open and will run till midnight on March 22nd any and all comments after midnight will not be counted. We will have 5 (ebook) winners (international) and 3 winners for a paperback (US/CANADA ONLY) of The Bridge of Deaths by M.C.V. Egan. Each winner will either receive one ebook or one paperback copy depending on your entry.
Thank you M.C.V. Egan for the generous donation!
Synonpsis
On August 15th, 1939 an English passenger plane from British Airways Ltd. Crashed in Danish
waters between the towns of Nykobing/Falster and Vordingborg. There were five casualties
reported and one survivor. Just two weeks before Hitler invaded Poland with the world at the
brink of war the manner in which this incident was investigated left much open to doubt. The
jurisdiction battle between the two towns and the newly formed Danish secret police, created
an atmosphere of intrigue and distrust. The five casualties are; Cesar Agustin Castillo, a bio-
chemical engineer educated in both Germany and the USA, he is a Mexican national working
for Standard Oil of New Jersey's London branch. Samuel James Simonton, American national
also employed by Standard Oil of New Jersey's London office with a very strong military back
ground, graduate of West Point. Erich Bruno Wilhelm Beuss a German national a corporate
lawyer who is travelling with his medals earned in World War I. Anthony Crommelin Crossley
English Member of Parliament who is known and outspoken on the antipathy to Hitler and the
Munich Pact. He is also the sole defender of the Arab cause in the matter of Palestine in the
1930s. Alfred Stanley Mardsin Leigh, employee of British Airways LTD. The sole survivor is the
Pilot Clifford Frederick Cecil Wright. In the winter of 2009-2010 a young executive, Bill is
promoted and transferred to London for a major International firm. He has struggled for the
better part of his life with nightmares and phobias, which only seem to worsen in London. As he
seeks the help of a therapist he accepts that his issues may well be related to a 'past-life
trauma'. His love interest Maggie helps him in his quest and realizes that she too is part of the
events as much in the past as she is in 2009-2010. Maggie and Bill find that through their love
and the courage to submit to past life regressions. They begin to find more questions than
answers. They become very curious about events leading up to World War II and through
archives and the information superhighway of the 21st century Bill and Maggie travel through
knowledge and time to uncover the story of the 1939 plane crash. Their quest includes a
friendship forged through Skype with a middle-aged woman in Florida obsessed with the truth
about her grandfather's death. This woman has been working for nearly two decades with
archives in Denmark, England and the United States to unfold the mystery that left her family
scarred and wondering. Her meticulous search and actual copies of documents in the book
help the reader understand that we are indeed dealing with true events.
All historical data is clearly documented and footnoted as many of the files used by the author
were rather obscure and not found in any history books. All data from psychics and past life
regressions is also very clearly documented.
The Bridge of Deaths is a love story and a mystery. Fictional characters travel through the world
of past life regressions and information acquired from psychics as well as archives and historical
sources to solve "One of those mysteries that never get solved" is based on true events and
real people, it is the culmination of 18 years of sifting through sources in Denmark, England and
the United States, it finds a way to help the reader feel that he /she is also sifting through data
and forming their own conclusions. The journey takes the reader to well-known and little
known events leading up to the Second World War, both in Europe and America. The journey
also takes the reader to the possibility of finding oneself
in this lifetime by exploring past lives
Author Bio-
M.C.V. Egan is the pen name chosen by Maria Catalina Egan the author of The Bridge of Deaths. Catalina was born in Mexico City, Mexico in 1959, one of eight children. From a very young age she became obsessed with the story of her maternal Grandfather, Cesar Agustin Castillo, mostly the story of how he died. She only spent her childhood in Mexico. Her father became an employee of The World Bank in Washington D.C.
From the early 1970s at the age of 12 she moved with her entire family to the United States. She was already fluent in Southern English as she had spent one school year in the town of Pineville, Louisiana with her grandparents. There she won the English award; ironically being the only one who had English as a second language in her class. In the D.C. suburbs she attended various private Catholic schools and graduated from Winston Churchill HS in Potomac, Maryland in 1977. She attended Montgomery Community College, where she changed majors every semester. She also studied in Lyons, France at the Catholic University for two years. In 1981, due to an impulsive young marriage to a Viking ( The Swedish kind, not the football player kind) Catalina moved to Sweden where she resided for five years and taught at a language school for Swedish, Danish, and Finnish businesspeople. She returned to the USA where she has been living ever since. She is fluent in Spanish, English, French and Swedish.
Mrs. Egan has worked for various companies and holds an Insurance license for the State of Florida. Not her favorite field but involves very nice folks and makes money!
Maria Catalina Egan is married and has one son, who together with their five pound Chihuahua makes her feel like a fulltime mother. Although she would not call herself an Astrologer she has taken many classes and taught a few beginner classes in Astrology. This is one of her many past times when she is not writing or researching.
She celebrated her 52nd birthday on July 2nd 2011 and gave herself self-publishing The Bridge of Deaths as a gift; she never submitted it to anyone prior to this decision and has enjoyed the very positive feedback.
you can pick up the book here:
http://www.amazon.com/Bridge-Deaths-M-C-EGAN/dp/1463410417/ref=sr_1_6?s=books&ie=UTF8&qid=1317579854&sr=1-6
you can get the kindle book here:
http://www.amazon.com/The-Bridge-of-Deaths-ebook/dp/B0057GG3T4/ref=tmm_kin_title_0?ie=UTF8&m=AG56TWVU5XWC2&qid=1317579854&sr=1-6
you can find more about M.C.V. Egan at the links below:
http://thebridgeofdeaths.com/
https://www.facebook.com/#!/pages/The-Bridge-of-Deaths/130675087014521
My three kids will pick the winners.
For more great book giveaways click the link below:
http://iamareadernotawriter.blogspot.com/2012/01/lucky-leprechaun-giveaway-hop-sign-ups.html