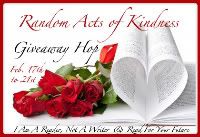 I would like to thank I Am A Reader, Not a Writer for putting together this awesome Blog Hop!
Welcome to my giveaway! All you need to do is become a follower of my blog with Google Friend Connect (old and new followers welcome) and leave a comment with your email address to enter the giveaway! One entry per person! This is a worldwide giveaway. The contest is open and will run till midnight on Feb. 21st any and all comments after midnight will not be counted. We will have 5 (ebook) WINNERS of: Fire Baptized by Kenya Wright.
The winners will be emailed a pdf ebook of Fire Baptized on Feb. 22nd!
Thank you Kenya Wright for the generous donation!
Blurb-
Since the 1970s humans have forced supernaturals to live in caged cities. Silver brands embedded in their foreheads identify them by species: a full moon for Vampires, a crescent moon for Shifters, a pair of wings for Fairies, and the list goes on, for each supernatural species has been tagged and categorized by humans. Lanore Vesta is marked with a silver X, the brand of Mixbreeds, second-class citizens shunned by society. She stays to herself, revealing her ability to create fire only during emergencies. All she wants to do is graduate college and stop having to steal to survive. But when she stumbles upon a murder in progress, she catches the attention of a supernatural killer. Now all she wants is to stop finding dead bodies in her apartment. Enlisting help from her Were-cheetah ex-boyfriend MeShack and a new mysterious friend named Zulu, she is steered through the habitat's raunchy nightlife. But their presence sometimes proves to be more burden than help, as they fight for her attention. While the corpses pile up, and the scent of blood fills the air, Lanore is left wondering: will she find the psycho or die trying?
My author's website:
http://www.kenyawright.com/
amazon buy link:
http://www.amazon.com/Fire-Baptized-Habitat-ebook/dp/B006YHTT9G/ref=sr_1_1?ie=UTF8&qid=1327027499&sr=8-1
goodreads:
http://www.goodreads.com/book/show/13272713-fire-baptized
book trailer:
http://youtu.be/a28T5HzpGJ4
for more great book giveaways click the link below:
http://iamareadernotawriter.blogspot.com/