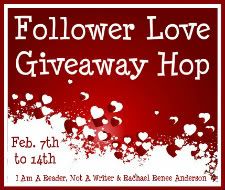 I would like to thank I Am A Reader, Not a Writer for putting together this awesome Blog Hop!
Welcome to my giveaway! All you need to do is become a follower of my blog with Google Friend Connect (old and new followers welcome) and leave a comment with your email address to enter the giveaway! One entry per person! This is a worldwide giveaway. The contest is open and will run till midnight on Feb. 14th any and all comments after midnight will not be counted. We will have 3 (ebook) WINNERS of: The Crown of Anavrea by Rachel Rassano. The winners will be emailed on Feb. 15th with a smashwords coupon to download the ebook format!
Thank you Rachel Rassano for the generous donation!
Blog ~
http://rachel-rossano.blogspot.com/
Website ~
http://anavrea.webs.com/
Twitter ~
http://twitter.com/#!/RachelRossano
Facebook ~
http://www.facebook.com/pages/Rachel-Rossanos-Rambles/240421865704
Blurb-
In a time when castles were the strongest…in a place where combat was face to face…there was a man on the run. Labren was not his true name and he admitted it freely. In a time when slavery was legal...in a place where kings were all-powerful…there was a slave in the right place at the right time. Eve, a slave from birth, was asked to trust this stranger who refused to give his true name. Eve saved a stranger's life. In return, he offered her the opportunity of freedom. She did not know what would happen to her if she chose to accept his proposal, but she did know the consequences of rejecting it.
Tifferz Take-
This is the first book in this series. Within the first chapter I was hooked and refused to put it down till I was finished. I felt a strong connection to Eve and felt bad for Labren. Ms. Rossano has a way with words that makes you feel like you are experencing everything right along with Eve and Labren. I liked that Ms. Russano did not have Eve trust Labren right away. I like that Eve had to work on her trust issues and her other old habits don't disappear over night. I also felt bad for Eve the fears she has to face. Lebren is a great hero and I loved when he let's Ulysses have it. This is a sweet romance with some adventure in the mix. This is an overall an awesome story. I am giddy to have discovered a new author. It is clean and no swearing. I can't wait to get my hands on book two THE ODORIC SAGA The King of Anavrea.
source- From Author for Review
you can pick the ebook here:
http://www.smashwords.com/books/view/96223
For more great book giveaways click the link below:
http://iamareadernotawriter.blogspot.com/