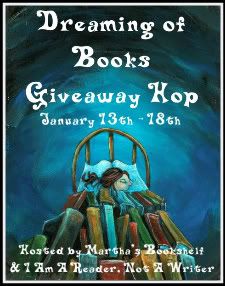 I would like to thank I Am A Reader, Not a Writer for putting together this awesome Blog Hop!
Welcome to my giveaway! All you need to do is become a follower of my blog with Google Friend Connect (old and new followers welcome) and leave a comment with your email address to enter the giveaway! One entry per person!This is a worldwide giveaway. The contest is open and will run till midnight on Jan. 18th any and all comments after midnight will not be counted. We will have 10 WINNERS of Shotgun Groom by Ruth Ann Nordin (ebook)!!!!
The winners will be announced on Jan. 19th and emailed a smashwords coupon to download the ebook format of your choice for Shotgun Groom by Ruth Ann Nordin.
Thank you Ms. Nordin for your generous donation.




Blurb-
April Edwards, a young widow, is content to manage a farm with her fourteen-year-old brother and a one-year-old daughter. Nothing, after all, could be worse than being married to her deceased husband. Nothing, that is, until her unscrupulous brother-in-law decides to marry her. With no other recourse, April and her brother concoct a plan--one that involves the unsuspecting doctor's assistant, Joel Larson.

Joel Larson doesn't want to be married. In fact, he's perfectly happy with things the way they are, but when he's sent to check on April's sick child, things take an unexpected turn for the worse. In one instant, he finds a gun and a mandate to marry April staring him in the face. Can a marriage that begins with a shotgun be just the thing Joel needs or has April just confined herself to another miserable marriage?


Tifferz Take-
I devoured this novel in one sitting and was swept back to 1878. Ms. Nordin has created a masterpiece that is truly original and her own. I felt like I was in the story right along with April and Joel. I feared along with April. I was proud of Joel and the choices he makes.He really is a good guy! That does not want to get married. Shotgun Groom is jam packed with humor, mystery and romance. (contains sexual situations within marriage) The plot is believable and the characters are very well drawn and so realistic they nearly jump off the pages . I found the whole story deeply satisfying. I am still thinking of this story days later.
This book is in a series but also stands alone perfectly.

for more from Ruth Ann Nordin click the link below:
you can pick up the ebook here:

http://www.smashwords.com/books/view/104713

For more than 150 book giveaways click the link below:

http://iamareadernotawriter.blogspot.com/2011/11/are-you-dreaming-of-books-sign-up-for.html